Should you need hospital care, our Hospitalist Service ensures you receive care that's coordinated with your primary care physician at BMG. Our highly trained hospital-based team of doctors, physician assistants and nurse practitioners provides around-the-clock care that works to get you well.
A key component of our affiliations with Catholic Health and Kaleida Health is 24/7 inpatient medical care provided by the BMG Hospitalist Division at Sisters of Charity Hospital, Mercy Hospital of Buffalo, Millard  Fillmore Suburban Hospital, and Buffalo General Medical Center.
Helping hospitalized patients cope with the complexities of today's health care system.
The BMG hospitalist team consists of full-time board-certified physicians, who have the training, expertise and experience to deliver timely, comprehensive care that helps patients and their families navigate the complex healthcare system and receive the best possible care during their hospital stay. 
How BMG's Hospitalist Service Works
After a BMG primary care physician (PCP) arranges an inpatient admission, the hospitalist assumes responsibility for the patient's care. Throughout the hospitalization, the hospitalist maintains close contact with the patient's PCP to keep him or her informed of the patient's status.
Once the patient is ready for discharge, all of the records from their inpatient stay are automatically transmitted to the referring doctor, followed by a personal communication with the physician(s) who will provide the ongoing outpatient care. This ensures seamless, coordinated care during and after each patient's hospital stay.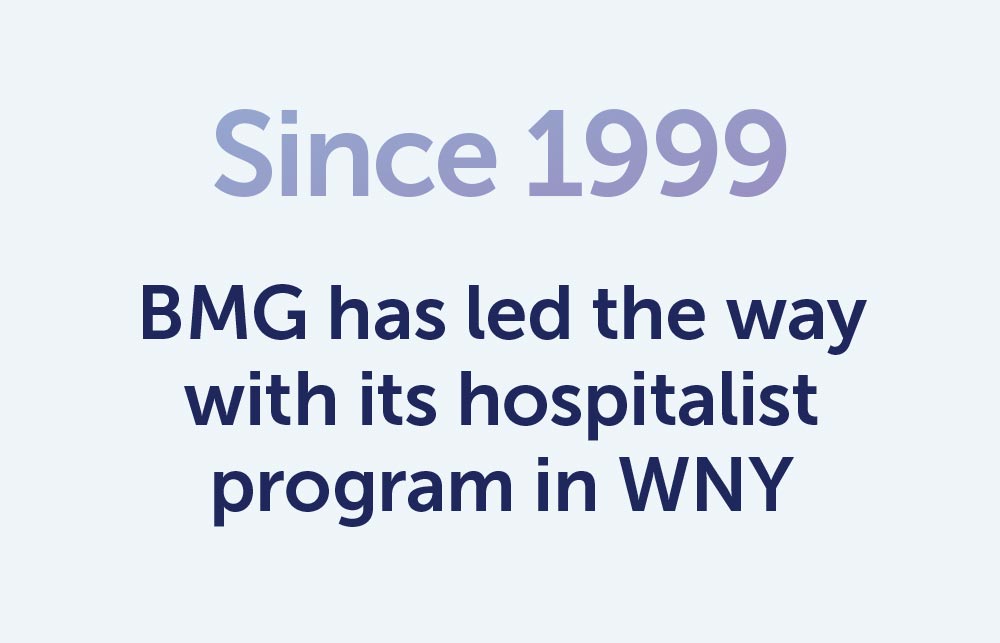 Hospitalist Services Specialists