Coming Soon: Buffalo Medical Group to Open Transit Road Location in Fall of 2023
By Jeffrey Johns | June 2 2023 | Uncategorized
Buffalo Medical Group will open a new healthcare hub location on Transit Road in the Fall of 2023. Plans for the 19,000 square foot location at 6950 S. Transit Road, Lockport, include primary care providers and specialist provider rotations to bring a range of care options to the community. The new location will include laboratory blood draws and plain film X-Ray imaging services on site.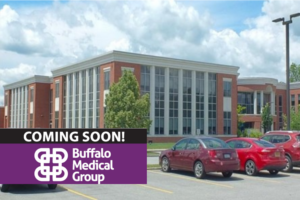 "As a physician owned and lead group, our goal is to deliver a range of care, close to home, in the communities we serve," said John Notaro, M.D., medical director of the Buffalo Medical Group. "This expansion will allow us to bring a new level of healthcare through our whole person approach to care to an up-and-coming community."  
"This location provides us with the opportunity to not only addresses the community's basic healthcare needs, but also make accessible a variety of specialized care with a rotation of our multi-specialty providers through the office," said Daniel Scully, chief executive officer of the Buffalo Medical Group. "This is an ideal location with easy access from Lockport and East Amherst and also affords us the opportunity to expand and grow at this site in the future."  
Buffalo Medical Group is recruiting new providers and has secured commitments from existing providers for the new Lockport location. BMG continues to recruit new providers for its growing practice sites in Buffalo, Williamsville, and Orchard Park.   
Buffalo Medical Group, founded in 1946, is among the first and largest multi-specialty physician practice groups in New York State. With nearly 200 primary care, specialist, sub-specialist physicians and advanced practitioners – as well as a team of more than 800 nurses, technologists, and other health care professionals – BMG records more than 850,000 outpatient visits annually at its main locations in Buffalo, Williamsville and Orchard Park and satellite sites.